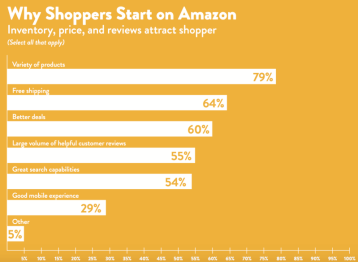 Why is Amazon product listing optimization so important? The reason is simple. According to a BloomReach Amazon product listing survey,more consumers start their online products search on Amazon than on Google. They do this for a number of reasons (see image), and as a  search engine, Amazon is growing in leaps and bounds. This why if you sell products on Amazon, it's vitally key that you understand Amazon product listing optimization. You could learn to do Amazon product listing optimization yourself, or you may (recommended) want to start out by seeking an Amazon product listing optimization service  SEO expert  to understand how best to optimize your products online through Amazon.
Amazon Product Listing Optimization Tips:
While doing SEO should be your first job, if you are have e-commerce business where you sell your products online, Amazon product optimization should be the very next thing you do. Optimizing your Amazon product listings isa cinch once you get the learning curve down. At this point it is very important to understand that Google SEO and Amazon product listing SEO are are horses of another color, and understanding what makes them different can be the difference between success or failure.
Before learning how to optimize on Amazon, you should be aware that Google and Amazon are different. The optimization tips that follow have similarities, yet comprehending how they are different is key.
Amazon values on page optimization above ALL else, while Google values on pages AND off pages factors like incoming links. Wait! You mean to say incoming links will not help optimization of my Amazon products? That is correct.
You have heard how bad duplicate content is in Google right? Unique content and title tags and all that? Well, with Amazon product listing optimization unique content is not as important. So, there are no worries about duplicate titles and content in Amazon.
Now that you have the above all down, you are set to optimize products on Amazon.  This means optimizing your Amazon product  listing pages and utilizing  Amazon's cool SEO features so you can drive more traffic to your site.
Amazon Product Listing Optimization Steps
Write an indepth Amazon Product Title, but remember you are not limited to 60 characters or so like Google, but now you get 500!
Images, Images, images. Use at least 5 or 6. . This helps prospective customers feel like you know what you are talking about. At his point you may want to read about  Amazon's Product Image Requirements
Use simple  Bullet Points and Write a good Product Summary
Get reviews to your Amazon product listings
Fill in  all Categories that apply and make sure you choose the right category. Check out the Amazon  browse tree guides so you can get a better understanding.
Over all, if you take our advice on the above about Amazon product listing optimization, you should see a marked improvement in your traffic and sales. You may still need help from Amazon SEO pros like us, so if so, contact our top Amazon Products Listing Optimization service today at 732-463-7835
TJBWebMedia  offers top NJ SEO Services and professional NJ Web Design
Related NJ SEO Posts
Local SEO Services
NJ Web Design Company
NJ SEO Services
NJ WordPress Web Design
NJ Digital Marketing Company