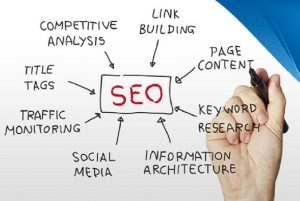 TJB WebMedia specializes in providing NJ search engine optimization or NJ SEO for business of all types. From doctors and lawyers, to restaurants, roofers, contractors, electricians and more, TJB WebMedia specializes in developing effective SEO strategies to boost your website to the top of the search engine results while your competition is left in the dust! In today's fast paced technologically advanced society, over 90% of consumers turn to the web to find goods and services. Therefore, if you want potential customers to find you online, it is imperative that your business website appears at the very top of the search engine results. Even if your website appears on the second page of Google, it isn't good enough! Why is this? It is because 85% of searchers only click on the top 5 search results. If your website isn't showing up on the first page of Google and other search engines like Yahoo! and Bing, then your business is virtually invisible to the world and you are losing out on many sales.
NJ SEO Services | What exactly is NJ SEO
Search engine optimization (SEO) is the process of building up your website's search organic engine rank so that it appears at the top of search engine results page for various keywords. Keywords are search terms that are relative to your specific industry, products and services. SEO is not a simple "once-and-done" ordeal. On the contrary, it is a multifaceted process that requires a comprehensive custom tailored strategy. Every business is in a unique situation and required a different plan of attack. If you understand exactly how SEO works and the many different elements you can employ in order to reach your goal, success is guaranteed! Our team of SEO experts consistently stay up to date with the ever-changing internet and evolving search engine algorithms to ensure that we develop the most effective SEO strategies for out clients. We provide SEO for all types of businesses including: restaurants, doctors, dentists, home improvement companies, real estate agents and many more!
NJ SEO | Why is SEO so Important?
As I mentioned previously, SEO is not a "once and done" thing. Because the internet is a dynamic entity that is continuously evolving over time, SEO is an ongoing process that needs to be maintained, tweaked and perfected during the course of an online marketing campaign. Here at TJB WebMedia, we believe strongly in SEO and here is why:
Why NJ SEO Important | Constantly Changing Trends
Do you remember (if you are old like me) the days when if you needed a service, you pulled out the huge phonebook that you kept next to your phone? Those days are gone for good! The internet has made those old phone books completely obsolete.  These days, everybody goes to the internet to find the things they need. For example, somebody searching for a roofer in New Brunswick, NJ will likely Google "New Brunswick roofer". They are then likely to call one of the companies listed on the first page of results. This is where SEO becomes important. Businesses need to ensure that their website is appearing on the first page of Google search results for relevant searches. If you want to succeed in the modern business arena, then you must position your website at the top of Google's search results for relevant keywords, such as "your specialty + your city".
Why NJ SEO? | Great ROI
Ask yourself this: How much money does your business earn from your average customer? Depending on your specialty, your answer will differ, however for almost all businesses one thing is true: It only takes a handful of new patients per month to cover the cost of an SEO campaign. Any additional patient revenue (which is almost always the case) is profit for your business. This is why positioning your website at the top of Google for relevant keywords is one of the most cost-effective marketing strategies for all types of businesses.
NJ SEO | Organic SEO or Google Adwords…Which is Better?
TJB WebMedia specializes in creating both organic and ppc Adwords SEO campaigns. But when it comes to which one is better, let us first clarify the difference between Organic SEO and Adwords. Adwords is when you pay Google for your practice's website to appear as one of the advertisements at the top of the Google search results page. However, organic SEO is positioning your website to appear in the real search results (known as organic search results) below the ads. Now to answer the question: The short answer is that both of them have their advantages. Adwords allows your practice to immediately be at the top of the page, however it comes at a cost. It can be very expensive – especially if the keywords you are targeting have high levels of competition. Additionally, when you stop paying for the keyword, it immediately disappears from the search results.
Organic SEO, is a more affordable and more long term strategy when compared to Google Adwords. Your practice's website can be positioned to be top of the real search results on Google, so that patients are genuinely finding the most relevant practice for their needs. Furthermore, organic SEO is longer lasting than Adwords. Once at the top of Google, it will likely stay there for several months (and if SEO services are continued then it can stay there indefinitely). TJB WebMedia's basic organic SEO package is very affordable and has proven to be very cost effective in terms of providing many more customers than the monthly cost of services. If you are interested in strategically positioning your website for the long term trend, then organic SEO is something you should seriously consider.
NJ SEO | What if I am Already Using Adwords?
Many times, we start working with clients who are already spending thousands of dollars a month on adwords. In this case, we recommend that you let us manage the account. We will analyze every detail of your adwords campaign and find out which words are getting traffic to your website and which ones aren't. After we determine which words are worth paying for and which ones are not, we reformat the adwords campaign to save you a big chunk of money while simulteinously begin an organic SEO strategy. As the organic SEO begins to rank in the top five search engine results, we taper off the adwords slowly until we rank organically across the board. Once that happens, we recommend paying for only a few adwords – the most lucrative.
NJ SEO | How to Choose Keywords
TJB WebMedia typically recommends that you start off by choosing 10 keywords to begin your SEO campaign. But how do we decide which 10 keywords to select? Firstly, we make sure that the keywords are actually being used. After all, there is no point being top of Google for keywords which patients are not searching for! Secondly, we select keywords which correctly identify the specific services you offer. For example, if you are an electrician, then we may include keywords for the particular service for which you would like to increase your volume of customer. Lastly, to avoid competing with electricians across the world, we recommend that (if you are a local business) keywords include your geographical area (usually the nearest city and/or county).
Here is a set of example (electrician) keywords below:
electrician + your city
electrician + your county
emergency electric service + your city
emergency electric service + your county
electrician + your service +  your city
electrician +your service + your county
electric repair + your city
electric repair + your county
Of course, if you are a national company, we can rank nationally for your services also! TJB WebMedia works with a number of national and international clients and we have references available upon request.
NJ SEO | How do you measure the success of SEO?
TJB WebMedia provides monthly reports, so that our doctors (clients) can clearly track the performance of the SEO campaign. There are several indicators to track the success of SEO campaigns. These include:
Keyword Ranking. Below is a screenshot of a monthly SEO report from one of our clients. In the left hand column, it shows the keyword we are optimizing for and on the right, it shows the position that each keyword ranks in Google.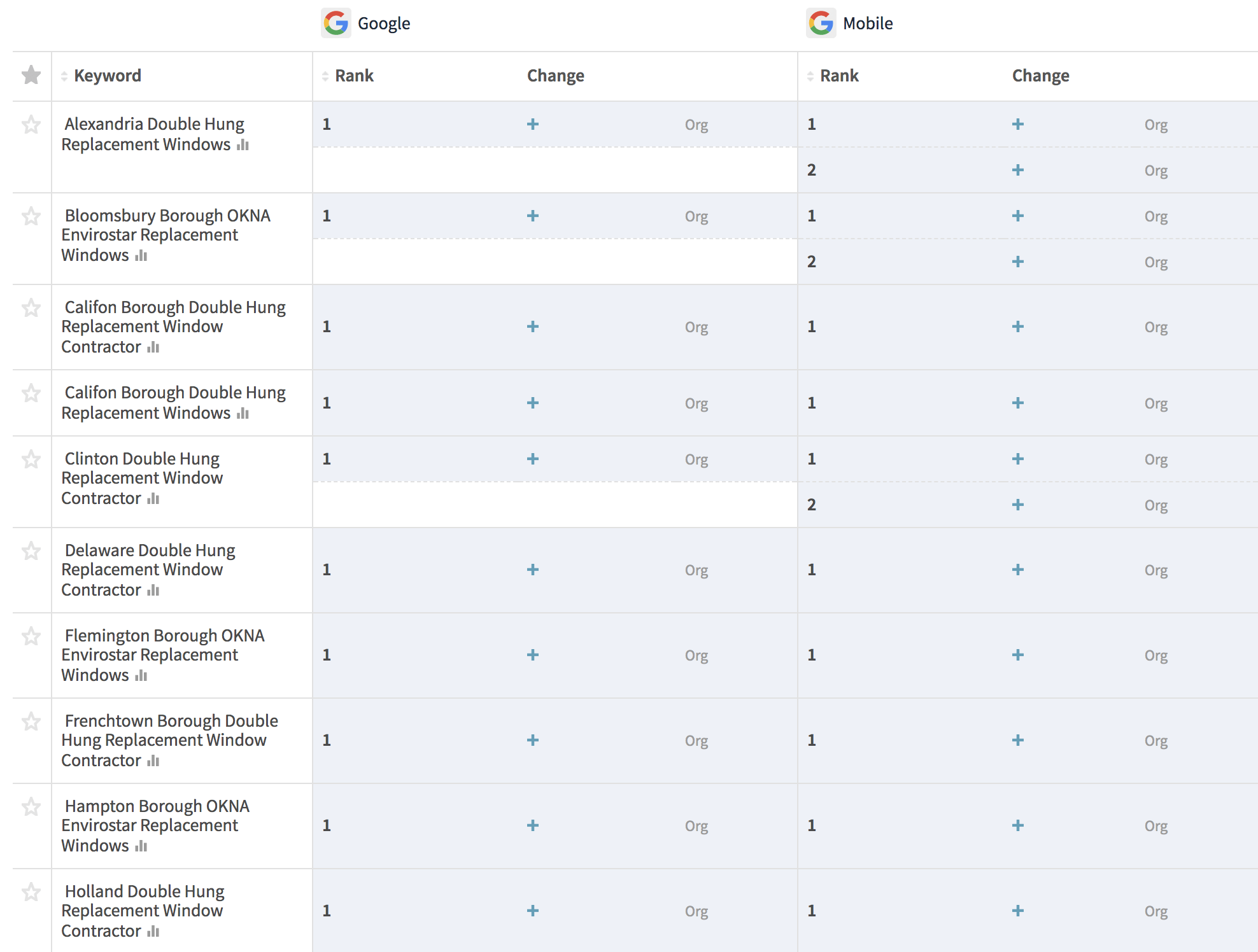 As your website continues to climb up to the top of the search engine ranks, you will inevitably begin to receive more phone calls and emails from the internet.  The increase in call and email volume is the best way to determine how successful an SEO campaign is because it provides you with tangible results that far exceed numbers on an SEO report.  At TJB, our specialty is getting those calls and emails coming in like never before.
We also provide google analytics so that you can see exactly which keywords and searches customer are using to find your website. This helps us strategize together and continually tweak our SEO plan for your business.
NJ SEO Pricing
When it comes to pricing, it really depends of the services that you need. Remember that when it comes to SEO, you get what you pay for! Our basic organic SEO package is $2,000 per month. (which is much lower than many other companies). If you need social media, reputation management, web development, ppc management or other services, the price may vary. Of course, we like to work within budget and if we feel that you are a good fit for us, we can come up with a custom payment plan! For a custom SEO quote click here or call 732 463 7835. One of our SEO experts will get in touch with you ASAP!
NJ SEO | TJB WebMedia – Top Ranked SEO in NJ!
If you need NJ SEO, contact TJB WebMedia today for the best services at the best prices. TJB WebMedia is a leading NJ SEO company. We work with all types of businesses to boost online visibility in search engines and increase your sales. Our team of experts is eager to analyze your site and develop a customized strategy to meet your individual needs. In addition to search engine optimization, we also provide web design/development services, reputation management services and SEO marketing. To get started, or for more information contact us now at: (732) 463-7835 or visit our website:
Related NJ SEO Posts
Local NJ SEO Services
NJ Web Design Company
NJ SEO Services
NJ WordPress Web Design
NJ Digital Marketing Company